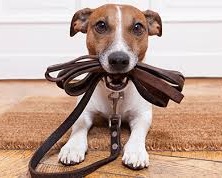 Today, the Secondary students have had the pleasure to meet an animals' trainer from Asociatia de Activitati Asistate de Animale (The Animal Assisted Activities Association), who was accompanied by a dog, named Gigica. The two of them have demonstrated the smooth way that a human and an animal can work together, the dog being able to execute the trainer's commands accurately and rapidly.
After the trainer had explained to the children the way this relationship works and how the human (trainer, master) should act to be obeyed by the animal, the students were asked to interact with the dog. One by one, they gave different commands to the dog and they gave her rewards for performing accurately each one of them.
The children were not only enthusiastic about Gigica being here but also about her calm and friendly way to interact with them (they could even pet her and she smoothly executed all the commands). There was a friendly atmosphere with lots of smiles.