 Nine tenths of education is encouragement.
Globalworth Scholarship Program
-to ensure a high level of educational process at the IOANID International High School, the management together with Globalworth Foundation decided to give 12 scholarships for students who will meet the conditions for the granting thereof, starting with 2018-2019 school year.
– Scholarships shall be divided equally among the two profiles: 6 seats to the bilingual profile and 6 seats to the math-science profile.
As a result of a rigorous admission process, we still have open seats for 10th grader students, starting this fall.
The admission process has the following calendar:
7th-20th of JULY  – Dissemination of information about the programme and application by IOANID High School, Globalworth Foundation and School Inspectorate of 1st District/ ISMB
8th-31st of JULY – Receiving registration applications at IOANID High School (more details at 0758 054 437 or at [email protected])
2ng of August –  Display of the results
About Globalworth Foundation
The Globalworth Foundation was established in 2018 by Globalworth, the leader of the office building market in Romania and Poland, and is a non-profit entity, being independent of the group's business activities. The Foundation's mission is to develop projects on three main pillars: people, places and technology.
Starting from the idea that the future of any society is represented by the younger generations, the foundation focuses on the care for people, which can be sustained through education programs and through projects that can improve their access to quality medical services, regardless of the social category in which are part of it. Equally important are initiatives that aim at building places and developing urban communities where people can meet, interact and find solutions that help those with special needs. In addition, the Globalworth Foundation believes in the positive impact of technology-enhancing projects, such as incubators dedicated to young people, and supports funding innovations that can, among other things, bring people
The idea behind the Excellence Scholarship Programme initiated together with Globalworth Foundation
In 2018, at the inauguration of the IOANID International High School, the Globalworth Foundation joined us in getting full scholarships for 9th grade students wishing to enroll in high school under a bilingual schooling system, which they will be able to complete opt to take the national exam or for the international baccalaureate.
The main condition is that the average of the graduation and that of the National Evaluation is at least 9.50. Full scholarships cover all schooling costs at a private education institution: manual, auxiliary, English overtime, lunch meals and class classes with classroom teachers. The scholarships were distributed to the two specializations, philology and the natural sciences.
The value of the project
Funding for scholarships is worth 100,000 euros per year, covering the cost of 12 full-time scholarships. Scholarships can be awarded until the end of the last year of high school if students continue to achieve very good results (annual average of at least 9). Therefore, the project's total value is 400,000 euros.
About IOANID International High School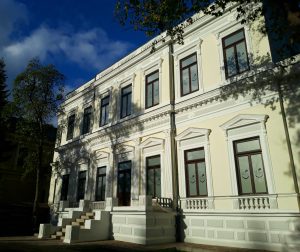 IOANID International High School is located near Bucharest's Romana Square, in a historic monument building. IOANID Kindergarten and IOANID Junior School have been operating since 2009, with around 400 students together. The IOANID concept has a high-quality competitive educational program in the center in an environment that encourages learning and research
Why do we need a project like this?
Globalworth Excellence Scholarships is a performance education support program, through which 12 young people with outstanding outcomes are supported throughout the four-year high school. They will attend the IOANID International High School, having the opportunity to prepare themselves daily after class with class teachers so that at the end of the 12th grade they can enroll in the International Baccalaureate exam which opens them the path to many prestigious universities abroad.
What our scholars say about being a part of IOANID International High Scool: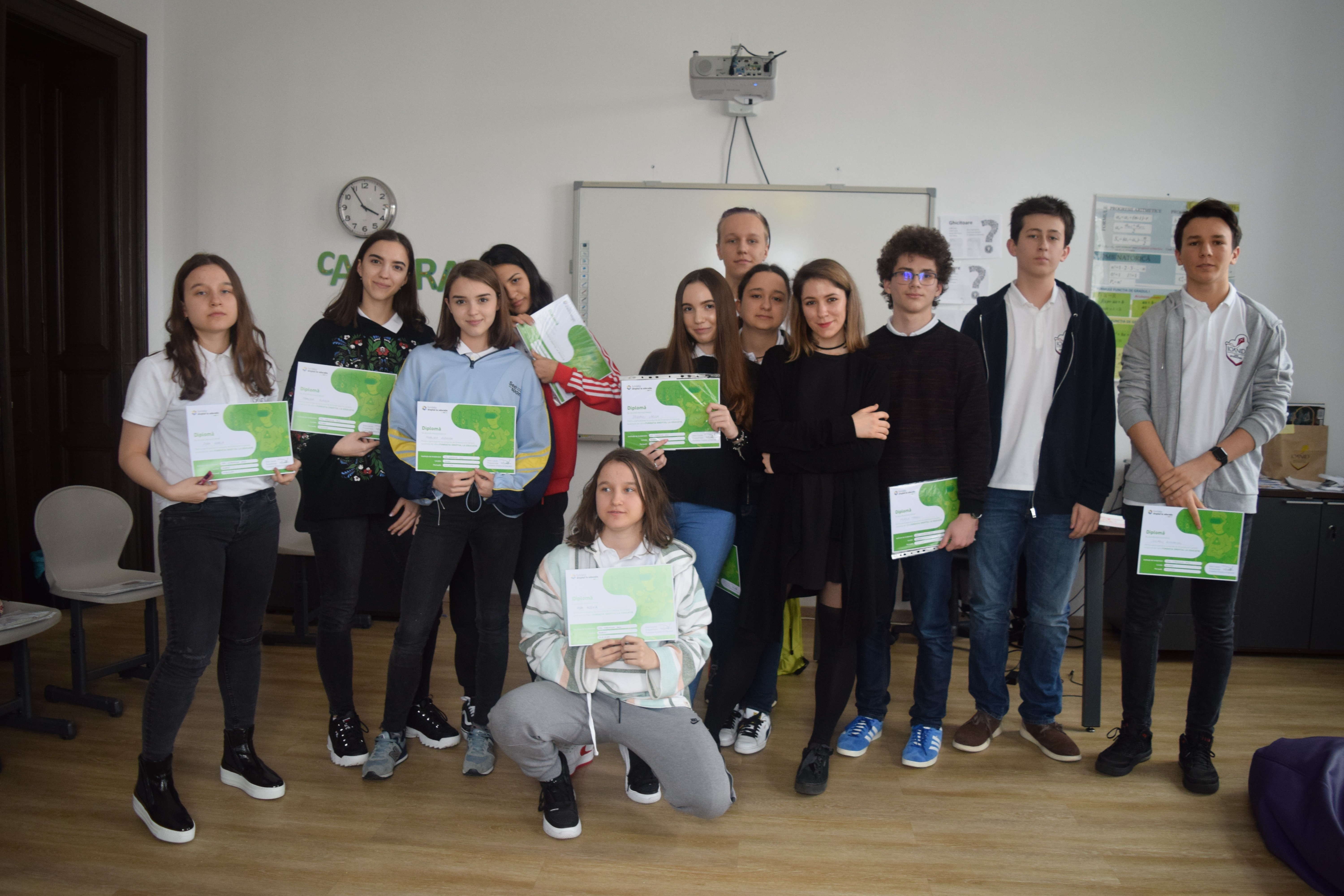 Alessia, 9th Grade, Philology

"Not in a million years have I imagined getting here, at the IOANID International High School. I spent my first 8 school years in a state school and I was 100% sure I would keep going on the same path. At first, I had no idea what to expect from a private high school, but I knew it would be different from the others. I was both skeptical and indecisive when I was faced my choices and I was hoping I would make the right decision. Today, I can say with no shade of a doubt that I am very happy with the high school vibe. The classes are very nice and interesting. The teachers' approaches are different. They are calm and understanding, always in our middle. I was used to very large classes and with constant agitation, so I was very surprised to find all peace and quiet, although there are many students in our school. Here, I like not only my teachers and fellow students, but also the building where I started my high school life. It has a particularly beautiful architecture and is very welcoming."

Ingrid, 9th Grade, Philology

"I like IOANID International High School a lot! It is very different from the state school system. Firstly, both teachers and the non-teaching staff are very nice. For instance, if I have questions, I don't hold back. I have the courage to ask and everything is explained to me patiently and gladly. I also enjoy all the classes, as the subject matter is taught in an agreeable way. Secondly, the schedule is good. I spend a lot of time at school, but I am never tired. I am so happy I come here, at IOANID. It is the best choice!"
Application file must contain:
– Student certificate issued by the school in which the student is enrolled, showing that the grade point average (GPA) is 10 on behavior overall and a minimum of 9.50 in the first semester of grade 8.
– Registration form
– Copy of the report card
– Recommendation letter from a former form tutor
Evaluation criteria:
– Step 1: dossiers submitted will be reviewed by our school committee that will select a number of pupils (in relation to the results obtained) which will be presented to the next phase-20 p
– Step 2: interdisciplinary test (Romanian, Mathematics and English)- duration of 120 minutes. The place and the date of the assignment will be established according to the number of entries, the test being evaluated at IOANID School by a committee appointed by the school's principal- 30p
– Step 3: the score obtained at the National Evaluation Examination- 50p
! The application file is eliminatory
! The scholarships will be awarded in descending order of the score
! Before the second stage there will be a meeting of the candidates and their parents with the school's management team.
It all starts with a Date
Echipa IOANID intelege faptul ca liceenii nu raspund pe masura asteptarilor noastre la pasivitatea care caracterizeaza in acest moment procesul de predare, motiv pentru care obiectivul nostru principal il reprezinta crearea unor experiente de invatare care sa atraga elevii. Predarea va fi una de tip interactiv, expunand participantii la experiente de invatare, ateliere practice. Misiunea noastra devine aceea de a stimula liceenii, echilibrandu-I si pregatindu-I ca viitori adulti intr-o institutie in care procesul static traditional devine dinamic si captivant.
It all starts with a Date
Institutia noastra elevilor sai posibilitatea de a-si continua studiile atat in tara, cat si in strainatate, avand sansa de a se inscrie la Universitati internationale. Echipa noastra de consilieri pregateste pentru liceeni planuri de actiune individuale, care sa ii ajute sa obtina locuri la facultati de top din strainatate, indrumandu-i catre pregatirea dosarelor de admitere si a sustinerii examenelor, in functie de domeniul ales.
It all starts with a Date
Programe de voluntariat
si orientare profesionala
Consilierii scolari IOANID dezvolta la clase programe de voluntarat in diverse domenii, pe teme sociale (mentorat pentru elevi din centre partenere, suport oferit echipelor care ingrijesc animale etc) sau ateliere de consiliere si orientare profesionala in vedere identificarii abilitatilor si alegerea carierei corecte pe viitor. Activitatile noastre se desfasoara atat la sediile IOANID (unde invitam reprezentanti din domenii identificate de elevi ca reprezentand interes – medicina, avocatura, entertainment, blogging/vlogging etc) sau la partenerii nostri (Orange, Virgin Radio, Fundatia Chance for Life etc).